How to cope with a sunset when the horizon has been dismantled: Stage design by Ludmila Rodrigues for Nederlands Dans Theater (NDT 1) The Hague. Directed by Marina Mascarell. Premiered on February 3rd, 2022 (season Traces Left Within), opening of Holland Dance Festival.
A sensual, exuberant performance where silence is acknowledged and spaces in between become choreographed. Eight performers enter in dialogue with ten sculptures. A new new physicality emerges, resonating the geometry of the landscape.
Throughout the performance, the dancers establish an intimate relation with the stage, forming an ephemeral poem. The work embraces a collaborative approach, where every collaborator has shared their vision and input. The result is a revelry of dance, that questions body representation, gender performativity and musical narration.
Direction: Marina Mascarell
Choreography and Performance by: Jon Bond, Conner Bormann, Donnie Duncan Jr, Boston Gallacher, Nicole Ishimaru, Paxton Ricketts, Lea Ved and Tess Voelker.
Stage design: Ludmila Rodrigues
Light design: Leticia Skrycky
Costumes & choreography assistance: Nina Botkay
Dramaturgy: Riikka Laakso
Rehearsal director: Lucas Crandall

Music: Richard Wagner: Das Rheingold, WWV 86A, played by Vienna Philharmonic & Sir Georg Solti; John Cage: Eight Whiskus (Version for Violin) played by Irvine Arditti; György Ligeti: Six Bagatelles for Wind Quintet: III, played by Albert Schweitzer Quintet; Jean Sibelius: 2 Pieces from Kuolema, Op.44: No. 1, Valse Triste, played by San Francisco Symphony & Michael Tilson Thomas.
Four musical pieces, dated from mid XIX to late XX century, create a varied melodic scenery for How to cope with a sunset when the horizon has been dismantled. The assemblage of compositions — by four white male representative of western music – is no means following an aesthetic or historical line, but rather constructing a dissonance of styles. The poetic motivation is to enter into a collision between the music and the dancers' bodies: to re-signify our relation with music, with our references, and not to illustrate given narratives or predictable emotions. The dancing body resists automatism.
At a time when the great stories that gave meaning to our world are collapsing, and millions of minor but singular stories float looking for their place, the presence of moving bodies claim to reconsider other paths.
How to cope with a sunset when the horizon has been dismantled emerges from the pleasure of composing with bodies, exploring the changing nature of light, cohabiting an ephemeral construction. Lines that fade, horizons that disappear, in an arid world full of constantly transforming filters.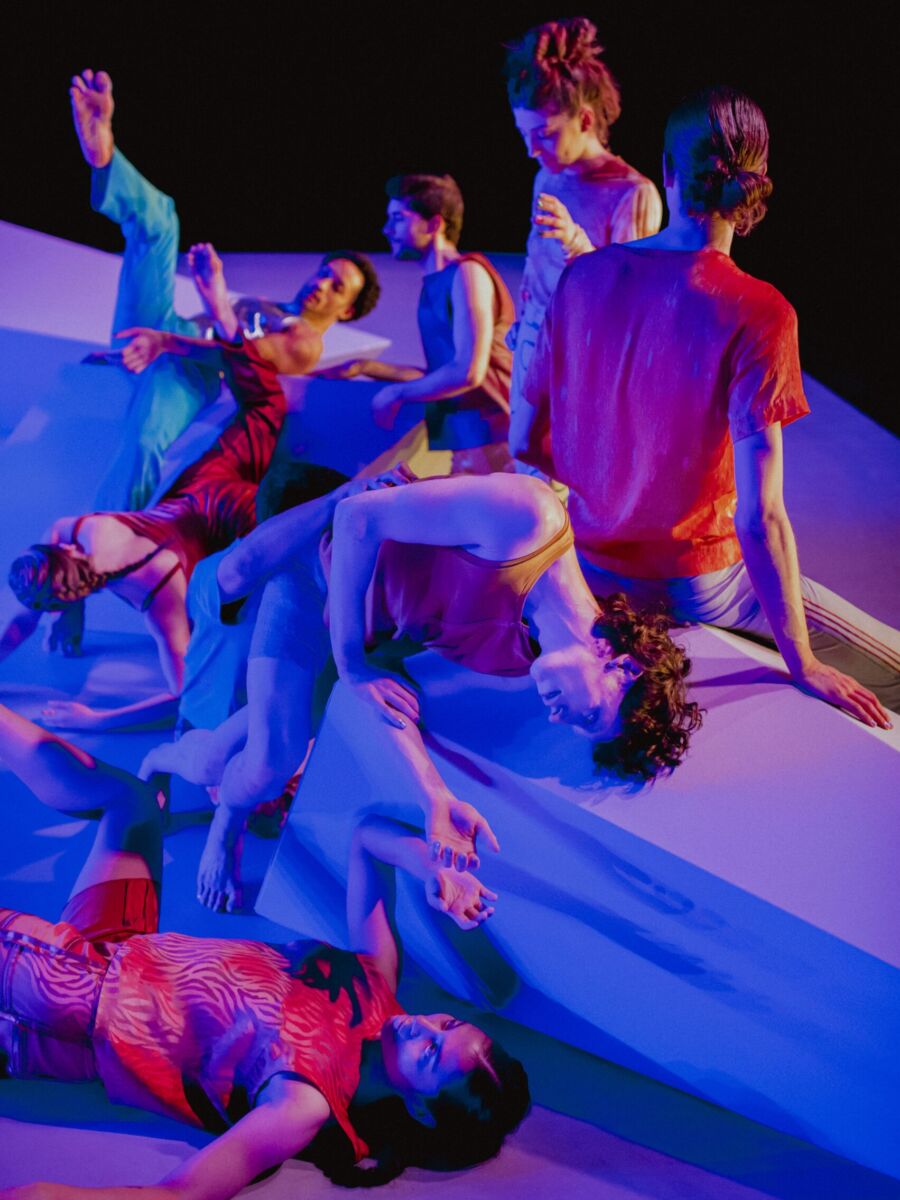 NRC Review:
"Prachtig is ook het toneelbeeld in How to cope with a sunset when the horizon has been dismantled van de Spaanse Marina Mascarell. Met losse, onregelmatig gevormde objecten is het een zee vol drijvende ijsschotsen in een onwerkelijk licht." – Francine van der Wiel, February 6th, 2022, NRC, Netherlands

Translation: "The stage image in How to cope with a sunset when the horizon has been dismantled by the Spanish Marina Mascarell is also beautiful. With loose, irregularly shaped objects it is a sea full of floating ice floes in an unreal light."
With thanks to Sofia Chionidou, Tjitte Meijer, and Yvo van Os.